SUCCESS STORIES
Meet our entrepreneurs and their amazing work!
Tarek Khallouf
Syrian catering
Tarek is 29 years old, has studied law and comes from Syria. Within the Business Lab by SINGA he wants to realize his idea of a Syrian catering company called Khalloufs Kitchen. His idea has a wonderful special feature: in the company, newly-arrived women are hired. He wants to promote integration and give women a chance for a future in Germany.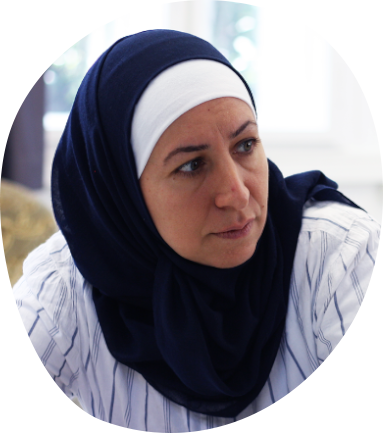 Rana Karkanawi
Orientalische Essen
Rana wants to found an oriental catering. The recipes have been passed down through generations in their family. She has made it her mission to bring the oriental cuisine closer to the people in their new home and at the same time to create a space for encounters.
Abdul Samad
Honey
Abdul Samad's family has been producing honey in Syria for generations. His father is a professional beekeeper and travels for his honey throughout Syria to get the best varieties. Abdul Samad wants to bring this honey to Germany so that the people in his new home share in this special taste experience.
Maher Alyio
Stadt-Kaffee
Maher has a great passion for coffee. He wants to use his 12 years of work experience in a coffee roaster in Syria to open a coffee and nut roasting shop in Stuttgart. He wants to make the wonderful fragrance and taste of coffee and nuts available to everyone.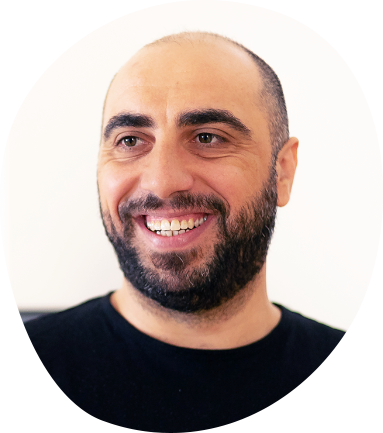 Reyad Salem
Fruits and Vegetables
Reyad comes from Palestine. He came to Germany in 2015 and now lives in Stuttgart. The idea that he wants to realize within the Business Lab by SINGA is to import a variety of fruits and vegetables from his home country to Germany and sell it to German supermarkets in Stuttgart.
Zina Aljnidi
Beytsetti
Zina came to SINGA with a dream: to open her own Lebanese restaurant in Stuttgart. She already had clear ideas about her restaurant when she came to SINGA: something comfy and informal, where families and children are welcome. Her goal was to offer high-quality, Lebanese food at fair prices. Today, she is the proud founder of Beyt-Setti, a Lebanese catering service.
Beyt-Setti offers traditional and new creations of handmade Lebanese and Syrian dishes and fingerfood.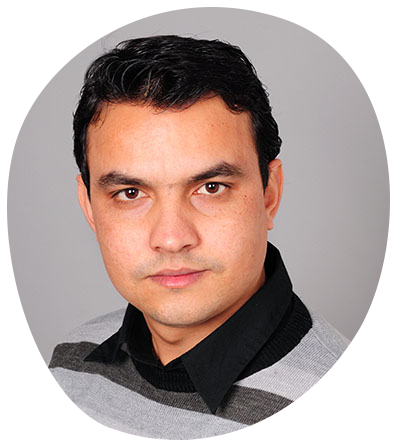 Khanagha Noori
Online Shop
Kahn comes from Afghanistan. He came to Germany to build a new life here. He wants to open his own online shop where he import Afghan specialties and sell them in Germany. He has already found a supplier for this.
Thomas Attah Yeboah
African Fashion
Thomas has worked for years in his home country as a designer and tailor. He now uses this expertise to design and produce traditional African fashion. For this he uses original fabrics from Africa. He designs both women's and men's fashion.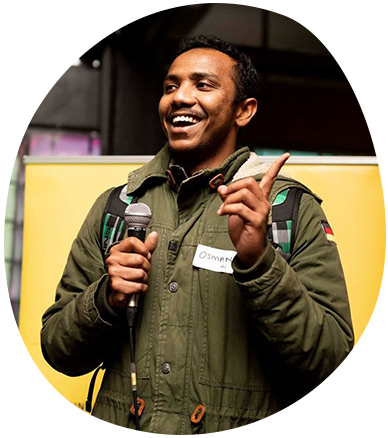 Osman Sheikh
Fashion Osman
Osman developed an idea during his stay in Greece. He has created and sold bags made from used life jackets and old lifeboats. He wanted to develop this idea of recycled bags in the Business Lab by SINGA. He wants to make bags of used materials, including truck tarpaulins. He brings with him the necessary skills and design ideas. He intends on donating the money earned with his backpacks to social projects.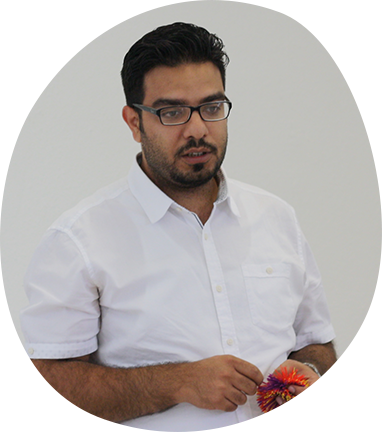 Nassim Alkhalil
Saros Lab GmbH
Nassim's goal is to give people the feeling of a flying carpet as they sleep. He is developing a mattress with integrated magnets. He wants to create an extraordinary sleep experience for the widest possible audience. His vision: to create a mattress with high sleeping comfort for people of all stature.
Samer Kabbani
IT-Consulting
Samer moved from Syria to Germany with his family. His business idea is IT-Consulting for refugees. The company will consist of technical support to advise people on a variety of IT issues such as online banking, mobile phone but also computer consulting and support. At the moment he is focused on his new job at a communication company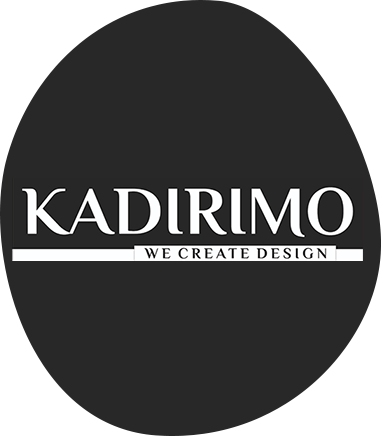 Abdulkader Alshikh Helal
Kadirimo
Design your walls, doors or cupboards individually and simply or make a loved one happy. Qualitative 3D wall designs made of high quality lacquered wood and produced in Germany.
"YOUR HOME TELLS YOUR STORY" with this motto, Kadirimo designs wall designs and neon signs. Abdulkader studied graphic design and everything is manufactured in his own workshop together with his partner.

Zaher Alchihabi
Zyzoo Media
Zaher is a trained actor and film director. In Stuttgart, he's founding an agency for commercials and moving images. He's acquired the necessary skills through his studies as well as his professional experience. His goal is to build a bridge between cultures and thereby bring them closer.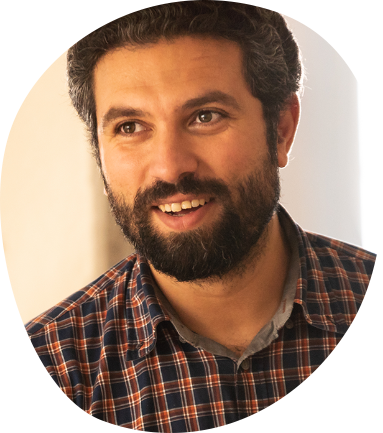 Masab Kriker
Perfumes
Masab's business idea is about perfume. He wants to import ingredients to make perfume himself and sell it in stores and online. Masab values quality above anything else. His products are intended to appeal to young people that have a limited budget in particular.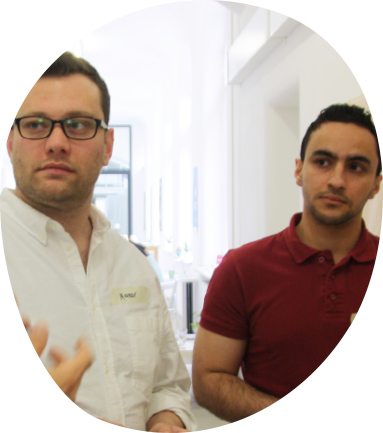 Nasser Awad and Manar Sheikh
Hawana
Nasser and Manar are founding a travel company that offers camping trips and day trips for newcomers. This should give them the opportunity to get to know their new home better. In addition, they want to address locals to participate in the travel, so that the community and integration is strengthened.
Ameen Amer
Distribution of PET
Ameen was already an entrepreneur back in Yemen, his home country. Here in Germany, he wants to fulfill the dream of self-employment again. His business idea is the distribution of PET. For this he wants to import shredded PET from the Arabian countries, which is then sold in Germany to large companies for further use. Thus, the plastic waste is reduced and converted into something useful.